888-973-7828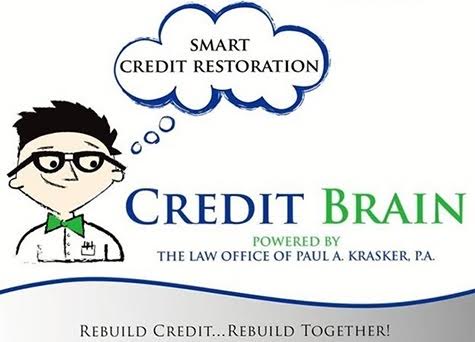 Credit Brain is a "smart credit" company. Specifically, we have completed extensive research into credit reporting, credit ratings and credit bureaus and the many factors that affect them. Credit Brain has combined all of its research with tools used to not only maximize credit ratings, but to help ensure long lasting credit success. Our company is happy to pass on the knowledge and resources to our clients.
Credit Brain is assisted by The Law Office of Paul A. Krasker, P.A., a law firm founded on solutions for today's economy. This affiliation creates a very unique and powerful combination as we combine our extensive credit research and tools with the experience of the law firm.
Credit Brain focuses on helping clients by providing tools to educate and by developing a custom plan for success. The goal of Credit Brain is to educate clients on the proper ways to strengthen credit ratings, remove incorrect credit items and make recommendations that will provide a positive and long lasting effect.
Credit Brain are nationally certified by National Association of Credit Services organizations, (NACSO) and The Law Office of Paul A. Krasker, P.A. is a proud sponsor of NBC News Channel 5 "Impact 5" housing series and an approved advisor of the State of Florida Hardest Hit Fund.